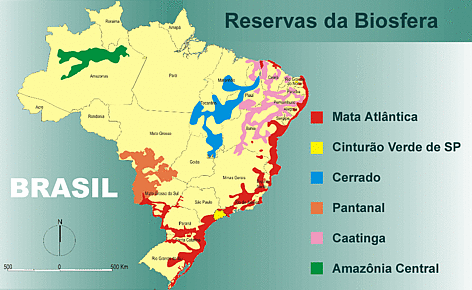 © MMA
The Cerrado Biosphere Reserve has an area of 296.5 thousand square kilometres and takes parts of the states of Goiás, Tocantins, Maranhão, Piauí and the Federal District.

It is one of six Brazilian reserves in this category recognised by the United Nations Educational Scientific and Cultural Organisation (Unesco), alongside the Atlantic Forest, São Paulo Green Belt, Pantanal, Caatinga and the Central Amazon.


What WWF-Brazil is doing for the Cerrado
The aim of the Cerrado-Pantanal Programme is to promote biodiversity conservation through the creation and implementation of protected areas, the preservation of species and by fostering sustainable development and economic activities with low environmental impacts.
Find out more
To know more about the Cerrado
Curious facts about the Cerrado
Its area of 2,036,448 km2 is equivalent to 23.92% of Brazil's land surface and equal to the combined areas of Spain, France, Germany, Italy and the United Kingdom.

The biome is one of the most unusual on the planet and, in spite of its poor acid soils, is home to 5% of all known species of living beings.